Best Long Distance Movers
Are you looking to hire the best long distance movers? South Florida Van Lines is here to help! If you're looking to move to Miami or outside from the state of Florida, everything can turn very easy if you hire the best long distance movers available. They might be a big challenge for a family, but for the right company is an everyday job. We are not saying it is easy, as even moving to a nearby street has its degree of difficulty. That's why the help of professionals is very advisable. Few people are fans of long distance moving; unless they can always have the help of the best movers.
A person who has moved can tell you that it isn't fun. It is a challenge even if it involves moving from one home to a house across the street. The confront is compounded, however, when the move is complete across state boundaries. If you are looking to be mobile from out-of-state to Miami, you can simplify the process by hiring our company.
Our crew of long distance movers in Miami can simplify the moving process. Imagine taking on the job of yourself. You will have to worry about packing all your goods and storing them in a large truck. You will then be taking up a task of driving several hundred miles at high speeds on the freeway in a vehicle containing everything you own.
Long Distance Movers Who Care
As you can see, it's no walk in the park to handle interstate moves on your own. We specialize in everything related to the moving process.
We will provide an accurate estimate of how much the move will cost. Our long distance moving company base the estimates on total distance traveled and the weight of the goods; however, we can work with you depending on your budget and make it more affordable. We will do our best to work a deal with you. If you want to omit certain services, so the price can be lower, we can do that as well. Our moving estimator will give you the options available when he goes to your home.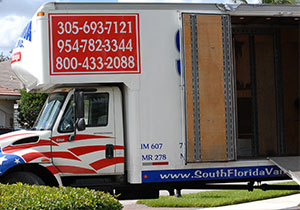 It's not all bad news when it comes to moving across state lines. When the ultimate destination is Miami, it will be worth it to put in some effort to get there. Our long distance movers in Miami will do everything they can to get your belongings to Miami in the most convenient way, and they will do it at an affordable price.
South Florida Van Lines A Family Owned Van Line With Care As Our Most Importance
Don't hesitate to give us a call and schedule your moving estimate at Toll-Free: 800.433.2088 or Phone: 305.691.2700