Are you searching for furniture moving services? Moving can be a challenging experience, and there's nothing like having the help of professional movers to set up your furnishings in your new location and start feeling at home again.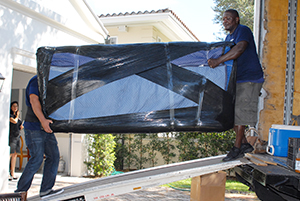 At South Florida Van Lines, we understand how important your furniture and belongings are, especially if you have antique items that come from generation to generation. Also, as they might hold a sentimental value to you, they might cost a lot of money, and they need to be transported appropriately. Our expert movers take utmost care in carrying items from your home or office, transporting them to your new destination. From the heaviest armor to the most delicate crystal lamp, our movers treat each item with the respect it deserves.
With more than twenty years of moving experience serving Miami Florida residents, our professional movers are licensed and insured. Also, in our commitment to our customers in providing outstanding customer service, we are affiliated with the BBB Better Business Bureau.
Professional Packing and Transportation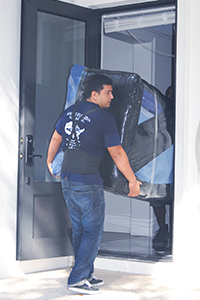 Every furniture item is unique on their own as their dimensions, as well as their materials, need to be handled and carried with care. We specialize in crate packing, to handle the most delicate items they arrive save to your next destination. Also, in the case of sofas, we wrap them in plastic, so it's free of stains due to inclement weather or things happening during the handling process.
If you are moving your company's furniture to a new location or moving to a new home, you can rely on South Florida Van Lines to get the job done professionally and efficiently.
For information regarding our furniture moving services, please call South Florida Van Lines to learn more about how can we assist you with an onsite estimate and provide you with a plan to make your moving day as pleasant as possible.
South Florida Van Lines – Furniture Moving Services
Call us today at (305) 693-7121 to make an appointment with one of our moving estimators today! or Click HERE to fill out a quick form.
Follow us on Facebook.